The holiday season is almost upon us. Time to be jolly, time to be merry. Oh! And time to be give generously! Hence here is the perfect giveaway event to do just that!
A Very Merry Snuza Christmas Giveaway is hosted by S.O.S. Mom and co-hosts Life with Two Boys and Baby Costcutters.
Two winners will each win a Snuza Go! Portable Baby Movement Monitor, a retail value of $99.99 per monitor.

This is a FREE blogger event. Sign ups will be from November 2nd to November 9th inclusively. Everybody gets one free link, with a choice between either Facebook and Twitter, in exchange for posting and hosting the giveaway post along with the Rafflecopter form on their respective blog during the entire event duration. Any additional link is $1. You are allowed a maximum of 4 links, including the free one. All entries must be paid via Paypal to melissa_campeau@hotmail.com. All moneys will be invested towards a Paypal Gift Card, which will be added to the giveaway as an additional prize.

Please take note that the person who will refer the most bloggers will earn a host page spot.

Giveaway will go live on November 12th up until the 30th, inclusively, and will be open to Canada and USA.

For more details or to join the event, please refer to the form hereafter.

Grab the event button!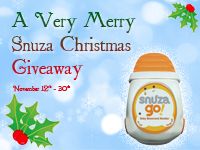 <div align="center"><a href="http://sosmom.blogspot.com/2012/11/blogger-event-very-merry-snuza.html" title="A Very Merry Snuza Christmas Giveaway"><img src="http://i1342.photobucket.com/albums/o772/TheSOSMom/snuza-button.jpg" alt="A Very Merry Snuza Christmas Giveaway" style="border:none;" /></a></div>