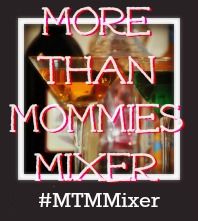 I was graciously invited to be the More than Mommies Mixer's first ever Life of the Party! Me, who never wins anything, got invited to be co-host for their very first edition of this extremely cool blog hop. Honoured to say the least! So now, let's show them how we party at S.O.S. Mom!
The Mixer is designed to help you check out and share Blogs, Facebook Pages, Twitter Handles and Pinterest Boards! You can jump on all the Linkys or only the ones that you feel like doing this week. We are hoping to make this a weekly feature here . . . so maybe you want to do GFC on your blog this week and Facebook next week. It's totally up to you!
Follow your Hostesses - Christine and Janene from More Than Mommies
Follow our Co-Hostess - Stephanie from When Crazy Meets Exhaustion
Follow the Life of The Party - this week it is Melissa from S.O.S Mom. There is a different Life of The Party EVERY week! All you have to do to be in the running is Tweet about us using the #MTMmixer hashtag Tweet

Follow our Mixologist - we don't have a Mixologist this week . . . because it is week one. Next week, we will choose one participant to get our party started at the #4 slot. All you have to do is link up (and follow the "rules") to be considered!

Follow the person directly BEFORE you on the hop!

Finally, we ask that you post one (or both!) of the following buttons in either a post or on your sidebar to let other people know where you are partying today!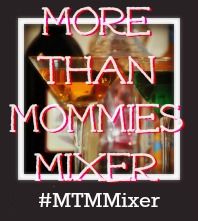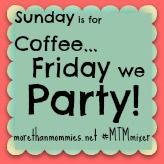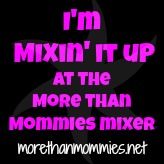 - Link up below for GFC and/or RSS followers:

- Link up below for Facebook Page follows:


- Link up your Twitter handle for follows below:


- Link up your Pinterest Boards below: